After The information gathering step, will start working on the design of the wireless network and determining the ideal placement of the access points.  There different types of surveys that could be used to complete the design. the three types of site surveys are Predictive Survey, AP-On-Stick Survey and Hybrid Surveys, will go over the pros and cons for each of the surveys.
Predictive Site Survey: 
Pro:  this by far the most cost effective to the client, as the entire process of the design is done remotely using a software modeling tool like Ekahau or Airmagnet. 
Cons: as this based on only software prediction of the wall Attenuation ( Drywall, Brick wall, Cinder block walls etc) the actual attenuation might be different and there will the risk for over or under design your network.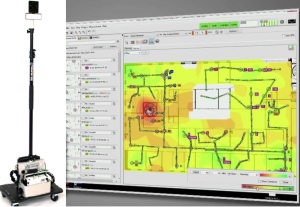 AP-On-Stick Survey: 
Using an Access Point ( The same Model/Type of AP to be deployed) that is powered with  POE injector connected to a power pack  and placed on a pole that extends to ceiling height. The survey is done by physically testing all potential APs (Access Points) locations from the predictive survey, to verify coverage, SNR ( Signal-To-Noise-Ratio), and any potential interferes. 
Pro:  Accurate  wireless design, with validated AP Locations. 
Cons: Time consuming, and cost prohibiting to some customers. 
Hybrid Site Survey:
The Hybrid site survey is a combination of both predictive and AP-On-Stick Survey. During the the site visit the surveyor will take note of potential areas where it would be necessary to complete an AP-On-Stick survey, these challenging areas could be due to unknown wall type material, shelving, ceiling height, AP mounting location for example ; Plenum:  due to aesthetic concerns ) on walls: ( Stairwells, underground tunnels, etc)